Tom Bielli Finishes Strong at the Adirondack Marathon
Club member, Tom Bielli, lead Saratoga Biathlon to a strong finish at the annual Adirondack Marathon. The 26.2 mile race circles  Schroon Lake, and  is one of the tougher marathons in the region. Tom finished in under four hours at his first marathon ever!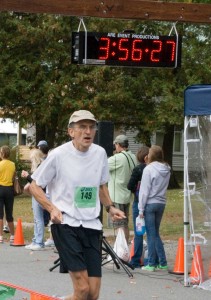 Tom sent out the following update via email
"I set a goal for myself to finish in four hours or less.  As you can see from the attached photo, I just made my goal with 3 minutes 33 seconds to spare.  I did pretty well for my first marathon.  I finished 6th out of 15 in the 50-59 male age group, 92nd overall out of 325 finishers.  According to the stats on the web site I was 18 minutes ahead of the average time for all male finishers even though I am 11 years older than the average age." 
Also in the race were notable NYSSRA stars Paul Allison, who finished 2nd (after claiming the NYSSRA Championship at the club this winter), and Team HURT member Matt Torniainen (33rd). No members of the evil Peru Nordic nation finished (although I admit I didn't look at the results too carefully).