Strong Results For Club at Jr. Worlds Trials
Carly Wynn and Sean Doherty each had a strong start to the three race series to select team  members for the Junior/Youth World Championships. Carly won the Youth Women's sprint race, finishing 42 seconds ahead of Kimberly DelFrate of Alaska. Sean Doherty finished second in the Youth Men's field (despite still being two years younger than the official youth age). Sean was only 3.5 seconds behind winner Ray Winters of Alaska. Brian Halligan, racing in his first National level race finished 16th in the youth men's race. Like Sean, Brian is also technically still two years away from the actual youth classification.
Eli Walker finished third in the Sr. Men's division. This division is unfortunately not competing for a slot on a World Championship Team.
The trials races continue today and tomorrow with a pursuit and another sprint. The race series is being held in Jericho, VT. For more information visit the Ethan Allen Biathlon Club website.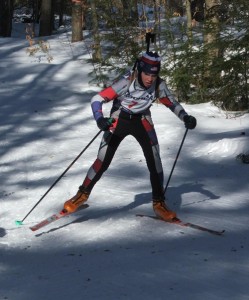 .